Warm & Comfortable Kennels
We want our boarding kennels to be a real home from home for your dog. Our kennels are fully heated, clean and comfortable to ensure your dog enjoys their stay. We have individual kennels and shared family kennels each with access to secure runs.
Gidding Grove Boarding Kennels are not just for longer stays, we are also happy to accomodate your dogs while you are at work as we offer a Doggy Day Care Service.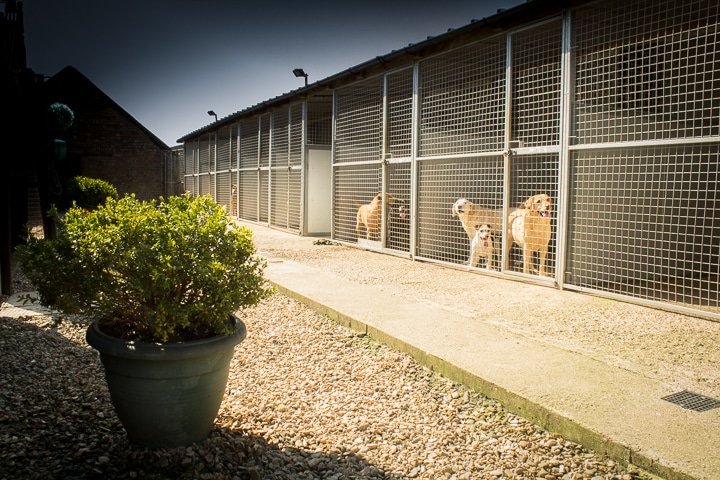 Caring for your dog
As dog owners we really do appreciate how much a part of the family dogs are. We pride ourselves on caring for your dogs as we would our own. Gidding Grove's well trained staff ensure the kennels are kept beautifully clean and we make sure your dog has plenty of daily exercise. All dogs get an extra long walk every morning to start their day. Exercise is so important, but it also helps us get to know the dogs individually and helps us keep a check on their health and well-being. Any special dietary requirements can be catered for and we are also happy to administer any medication your dog may need.
Enclosed Exercise field
New for 2021, we now have a fully enclosed dog exercise field where your dog can enjoy a daily run, off the lead.
Dog Grooming
Why not add a grooming session to your dog's stay and pick up a pampered pooch on your return?
Doggy Day Care
We can look after for your dogs while you are at work, too. The same high standard of care as our boarding dogs starting from just £14.50 per day. See our prices page for more details.
Vaccinations
We of course have a duty of care to all the animals staying with us so it is essential that your animals are fully up to date with all their vaccinations including Kennel Cough which must be given a minimum of 14 days before arrival. Don't forget to bring your dog's vaccine record with you.
Pet Insurance
Should your dog have any need for urgent medical attention whilst at Gidding Grove, we will of course refer without delay to one of our trusted local veterinary practices. As a backup we have insurance cover for veterinary costs up to £1500. We do, however, strongly urge all our pet owners to purchase the cover for their pet that will them give peace of mind in all eventualities. It is not uncommon for veterinary costs to become prohibitive and this can add complications, especially if we unable to contact owners in these circumstances. Please feel free to discuss with us for more information.